The Storage Mall – Self Storage Solution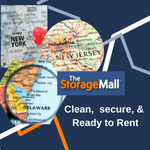 With a variety of options to choose from, learn more about self storage to choose the perfect unit for your needs.
If you're in need of self storage, look no further than The Storage Mall! We offer a variety of self storage units to meet your needs. Whether you're looking for climate controlled storage, drive-up access, or vehicle storage, we have you covered. Find out why you should choose your self storage solution with, The Storage Mall.
Benefits of Self Storage Units
Self storage units are a great way to free up space in your home or office. They are also a convenient way to store seasonal items or belongings that you don't need on a daily basis. Self storage units are available in a variety of sizes and types and can be rented on a month-to-month basis, so you can store your belongings for as long as you need.
Different Types of Storage Solutions
The Storage Mall offers different types of self storage options for our customers. We have climate control storage units, drive-up self storage units, and vehicle storage available. Our facilities offer different amenities, to find an available self storage unit near you check out our locations page!
Climate Controlled Self Storage Units
If you're looking for self storage, you may be wondering if climate controlled storage is the right option for you. Climate controlled self storage units are a great option for storing temperature-sensitive items. They help to protect your belongings from extreme temperatures and humidity. Choose climate controlled self storage at The Storage Mall to keep your belongings safe and sound. If you're not sure whether or not you need climate controlled storage, our knowledgeable staff can help you make the best decision for your needs.
Drive-up Self Storage Units
You won't have to transport your belongings through a busy storage facility because drive-up storage units function like a home garage, they are accessible outside. Simply pull up to your unit and begin unloading! Many people who need a self storage unit believe that temperature control is necessary; however, this is not always the case. The Storage Mall offers plenty of wide drive lanes, making it simple to get your moving van there and back again.
Vehicle Storage Units
Vehicle storage is also available at some of The Storage Mall facilities. Covered and uncovered vehicle storage options are available at several locations. Covered vehicle storage is a great option if you want to protect your car from the elements. Uncovered vehicle storage is a great option if you need to store your car long-term. RVs, cars, boats and other vehicles are easy to store in a vehicle parking storage unit. Our security features will give you peace of mind, you will know your vehicle is safe and sound.
Choosing Your Unit
Choosing the perfect self storage unit solution for your needs can seem like a daunting task. But don't worry, The Storage Mall is here to help! So how do you choose the perfect self storage unit for you? Here are a few things to consider:
What Items are You Storing?
Some common things we hear from customers are "I will take the biggest unit you've got" or "Give me the cheapest unit" this is not always a good way to find the correct storage solution. Choosing a self storage unit that is the perfect size for you can seem difficult. What are some of the largest items you will need to store? You will want to make certain those items will fit in your storage unit. The Storage Mall offers a variety of unit sizes to assist with your needs, call us if you would like some help deciding what size unit will be best!
Unit Type
Choose from climate control, drive-up, or vehicle storage! We keep our temperature controlled units at a consistent temperature and humidity level to protect your belongings.
Facility Amenities
Some features to consider when looking for a self storage facility are hours of access, security features, easy rentals and more.
24 hour access may sound appealing if you need access to your storage unit at all times or different times of the day and night. The Storage Mall has access hours that vary depending on the location, we do offer 24 hour access and extended hours at each facility.
Security features like perimeter fencing, gate access, and a well-lit facility keep you and your belongings safe at our self storage facilities. Ensure you ask about these features prior to renting a storage unit from the facility of your choice.
Renting should be a simple process and at The Storage Mall we make it easy! Simple rent online, give us a call, or stop in by appointment to rent the perfect storage unit for your needs.
Self storage insurance is something that most people do not consider when looking for a place to store items. Relying on your homeowners insurance to cover your belongings in storage is one way of making sure your items are covered. Check with your insurance as the deductible may be in the thousands and offer a small coverage amount for items off-site. You will want to know what your coverage offers before making a decision.
Most self storage facilities offer insurance plans starting around $10 per month and carry thousands of dollars in coverage. These plans are through licensed insurance companies. Insurance is something you should purchase when renting a unit. While no one expects their belongings to be damaged, in the event that they are, you will know you are protected.
The Storage Mall – Your Solution
Moving, downsizing, renovating, or simply have too much stuff, you may need a storage unit. Choosing the right self storage unit can be a difficult undertaking. The Storage Mall hopes you find useful information to assist in choosing a storage solution for you hassle free. Offering many options for storage units including size and amenities, at The Storage Mall you are sure to find the perfect self storage solution for you!
More From