Necessary Moving Supplies for Storage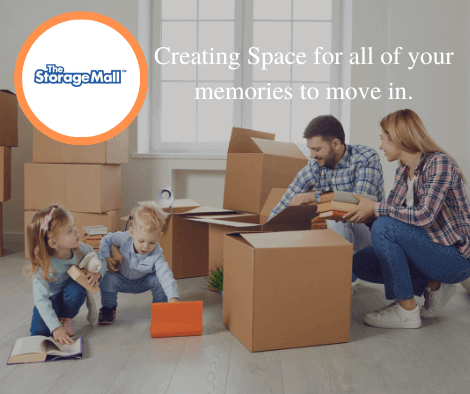 Most helpful moving supplies when storing in a storage unit tips
Moving can be physically and emotionally stressful and often exciting! You will have much to accomplish to make this a success! Know that you may require more than some cardboard boxes and tape. The Storage Mall has suggestions for necessary moving supplies for your move into a self storage unit.
When preparing to move, there are some things you will need to do to prepare and some things that will happen on the exact day. The Storage Mall (located throughout eastern New York, New Jersey, and Delaware) has many items available to make your move to a storage unit more manageable.
What is a Storage Unit?
According to Google, the definition of a self storage unit is:
(n) a system whereby individuals rent containers or units of space within a large warehouse to store possessions.
It may be utilized to keep extra goods that don't fit in your home or for keeping them when they are on the road. A storage facility, as the name implies, does not have the features of a home.
Moving Supplies
These include the packing supplies that help make the activity manageable. They include:
Cleaning Supplies
During the moving process, the first thing you want to make sure you have on hand is a sponge and a mild cleanser. When you move your things, they may need some light cleaning.
Moving Boxes
Plastic or standard boxes are among the most essential items to have on hand. You can either rent or buy plastic or normal boxes here. The urge to get them in the same size so they'll be easier to stack up should be avoided. Instead, pick an assortment of sizes including extra-large, medium, and wardrobe boxes. If required, you may also add plastic bins.
Plastic Baggies
When moving, it's unavoidable to disassemble beds and other furnishings. Store screws and little things that might go missing in plastic baggies. To help you keep track of where each of them goes, make distinct tags for them.
Plastic Wraps
Plastic wrap is great for keeping similar things together. It also keeps items from moving around when they're in transit. It may also be used to keep liquids from leaking out of bottles. You don't need to buy plastic wrap specifically for moving purposes.
Packing Tape
Make certain you have plenty of high-quality packing tape on hand. Packing tape comes in handy when constructing boxes and sealing them. It has two distinct functions, so buy as much as you need.
Packing Materials
These are items that can protect your cherished items from all types of harm during a move.
Styrofoam
In the case of mail-order purchases, Styrofoam packing is typical. They aid in filling the gaps in moving boxes, ensuring that their contents are not damaged when shifting. They may not, however, be strong enough for your delicate or fragile things.
Packing Paper
If sharp or delicate items are included in your belongings, try a product with additional cushioning and stability, packing paper is required for these items. Plain paper is a good choice since printed material may transfer onto your belongings.
Tool Set
To disassemble furniture, you'll need the following equipment. When it comes to disassembling furniture, having labels on your belongings is a must. If you don't have them, utilize a permanent marker when packing plastic bins.
Bubble Wrap
Use this to protect delicate objects like ceramic, porcelain, or glass. Bubble wrap can also be used to cushion things before they're placed inside moving boxes.
Packing Foam
Packing foam comes in a variety of forms. Corner guards, pouches, rolls, and sheets are the most popular types. It's great for safeguarding a wide range of household goods, including picture frames, glassware, ornaments, dinnerware, and jewelry. Securement is easier with foam sheets or rolls that fit over large items. Pouches can hold smaller objects. When used with other protective materials, packing foam is simpler to manage. We do not advise it for people on a budget who need to transport their belongings far distances.
Specialty Boxes
When you buy specialty boxes, there are cardboard separators to keep things separate during transit. These are more costly than standard boxes. They're the greatest method to assure those fragile items remain intact. Glass-divider and dish packing kits are the most popular varieties.
Supplies You Need on the Moving Day
Furniture Pads
If you're moving bookcases, sofas, and hefty furniture into your new house or storage facility, these are the tools for the job. It only takes a few seconds to slide it under the stuff and send it rolling across the floor with minimal effort. If furniture pads aren't available to clean them inside the storage unit, moving blankets can also do the trick. To keep them tidy while they're stored away, utilize furnishings covers.
Dollies
Hand trucks, furniture dollies, and appliance dollies are some of the most common types. They're perfect for moving large pieces of furniture and big things in and out of the truck.
Lifting Straps
These are used by individuals who prefer to do their own relocating. When lifting big appliances and huge pieces of equipment, they assist distribute weight.
Cargo straps
When it comes to cargo, straps such as safety straps or cargo ties are ideal. They aid in the prevention of items shifting during transit.
Saving Money on Moving Supplies
Boxes and packing materials can be quite expensive to move. Even if you only have a few things, the expense of moving supplies may swiftly rise. There are various methods to save money if you are on a budget. You might get used boxes that are still in excellent shape from your local stores. Alternatively, ask or borrow from friends or family members.
Another option for saving money is to be inventive when packing your things. Instead of purchasing expensive packing materials, fill in the gaps in big boxes with comforters and cushions. To cushion your delicate goods, try wrapping them in towels instead of using expensive packaging.
Packing Tips
To track your sales data, make a list of each box. Keeping an inventory list will help you notice when one goes missing. If you want quick access and don't mind spending time filling the boxes, put them near the entrance.
Are You Looking for the Best Moving Professionals and a Storage Unit?
Look no further than The Storage Mall if you need expert assistance when relocating to a new house or need to store your items. We provide a large range of moving supplies, as well as Uhaul truck rental alternatives to meet your needs. To make the moving process more pleasant than it has ever been, we will provide professional help.
You can reach out to one of our Expert Managers if you want to go to our Storage Facility, and we will be happy to assist you with your moving supplies and storage unit requirements. Contact The Storage Mall immediately!
More From The Storage Mall