Holiday Décor: Storage Solutions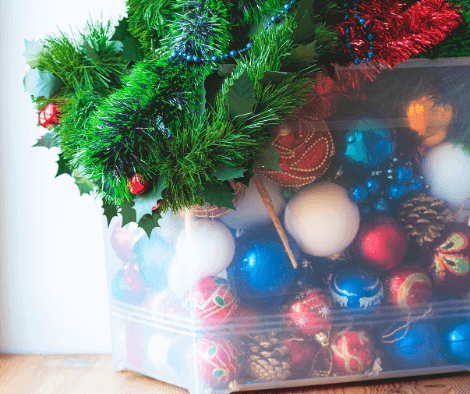 Keep your home organized with The Storage Mall, we have the perfect solution for storing holiday decor.
The holidays are a time for family, friends, and happiness. Once the presents are unwrapped, boxes are emptied, and wrapping paper is strewn about the room, it's time to start thinking about cleaning up. Taking down the tree and packing away the decorations, recycling boxes, and finding a home for new gifts are on the To-Do list following the holiday merriment. Storing your holiday decorations doesn't have to be a daunting task. With a little organization and the following tips, you'll be ready to put your holiday décor away until next year in no time!
Inspect all of your holiday decorations before packing them away. Look for any signs of wear and tear and repair or replace damaged items as needed. This will help ensure that your decorations will be safe and in good condition when you take them out next year.
Ornaments
Ornaments are easy to pack if they have the original containers. You can use gift wrap and tissue paper to create a soft place for decorations to sit inside your box. Fragile ornaments on the top of each box is best; you can place small ornaments into egg cartons to ensure safe storage.
Reuse a shirt box or shoebox to store ornament hangers. Fill it with hooks, rolls of small ribbon, cording, scissors, twist ties, and craft wire – everything you'd need to replace the inevitable lost hanger.
Store food-based decorations (like the cinnamon and applesauce ornaments your kids bring home from school) in sandwich bags to protect them from humidity, and then place the bags in an empty cookie tin to keep rodents out.
Carefully wrap delicate or breakable items in bubble wrap or packing paper. This will help protect them from being damaged while in storage.
Delicate Decorations
Tabletop decorations, wall décor, and fine dining sets on display in your home during the holiday season will need to go in a safe location. Dust all items before putting them away. Wrap any items needing extra padding in newspaper or bubble wrap. Label all boxes or storage containers so that you know what is inside each one. This will save you time and frustration when trying to find specific items next year.
Lights and Garland
Bulky garland and tinsel are best stored in large plastic storage containers, we recommend clear bins to make it easy to find everything when you need it next year. Using boxes or containers for garland is a great idea because you can push a lot of it into each box. Next season you will make time for fluffing out your garland.
When rolling up your garland or lights it is a great idea to put a clip, twist tie, or yarn on the center before removing them. This way, you will not have to measure next holiday season again. You will want to remember which piece of garland goes best in the entryway and which size is for the dining room windows. To do this, we suggest masking tape and a pen.
Lights
Instead of coiling your lights in a bundle that somehow turns into a big tangled ball, wrap them around empty wrapping paper tubes and tape the ends of the string to the tube.
Put extra bulbs and fuses in a sandwich bag and place them inside the tube.
Check the strands before putting them away to replace or throw away broken strands.
Find a cool, dry place to store your holiday decorations. Attics and basements are often too humid or warm, which can damage delicate items. A closet or spare bedroom is usually a good option.
Finally, remove all batteries from any battery-operated items before storing them away. Batteries can leak and cause damage to the items they are stored with.
These simple tips allow you to easily and safely store away your holiday decorations until next year! Merry Christmas and Happy New Year!
More From The Storage Mall