Sun - Sat

Rent Online 24/7
Sun - Sat

6:00am - 10:00pm
Need help choosing? Try our Size Guide.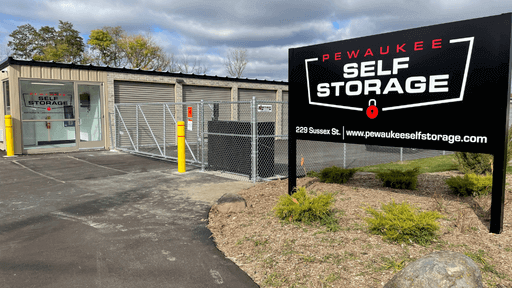 Self Storage Units in Pewaukee, WI, at 229 Sussex St. | Pewaukee Self Storage
Drive Up & Climate Control Self Storage Units
Are you looking for a self storage unit in Pewaukee, WI? Whether you are a native of the area or looking to move to our small town of Pewaukee, extra space is necessary to keep life organized and running smoothly. Lucky for you, Pewaukee Self Storage is the perfect solution for all your self storage needs. We are located just across the street from Lake Country Barge and just minutes from Hiawatha Pioneer Trail.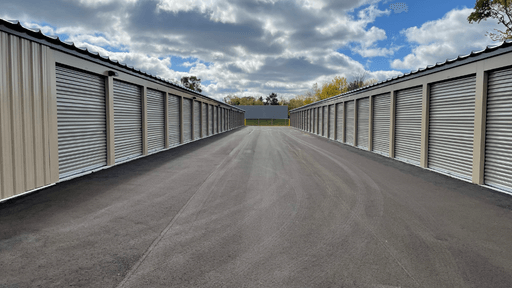 The versatility of Self Storage Units
Pewaukee Self Storage offers a variety of Self Storage unit types, amenities, and sizes to accommodate all your needs.
Self Storage Unit Types
Interior Self Storage Units
"Drive-Up" Self Storage Units
Self Storage Sizes
At Pewaukee Self storage, we've helped enough people organize their life to know that there are a few standard sizes that work for most people, so we keep it simple:
5×10: Roughly the size of a standard closet. This unit is ideal for storing extra items such as boxes, twin-size mattresses, books, records/files, and other small miscellaneous items. Equivalent to: Regular closet
5×10: The perfect size for outdoor lawn furniture, kitchen appliances, a small mattress set, files, the contents of a small office, or even a motorcycle. Equivalent to: Walk-in closet
10×10: A two-bedroom apartment or house, including appliances, boxes, and miscellaneous items or inventory from a commercial business inventory. Equal to: A Standard Living Room
10×15: A two-bedroom apartment or house, including appliances, boxes, and miscellaneous items or inventory from a commercial business inventory. Equivalent to: A Standard Living Room
10×20: The size of a typical one-car garage makes it ideal for storing boats, antique cars, or the contents from 3 to 4 bedrooms. Equivalent to: Standard one-car garage
10×30: Moving across the country? This size unit is ideal for storing the contents of a large home while you settle in! This unit can hold the contents of a 5-7 bedroom home! Equivalent to: Standard two-car garage
Self Storage Unit Amenities
You deserve the best, and at Gateway Storage strive to make sure you always have the best amenities that the Self Storage Industry has to offer, Including:
Security Cameras
Personal Gate Code Access
24 Hour access
Wide Drive Isles to accommodate larger vehicles
Online bill payment
Pest Control
Clean interior and exterior buildings
Well-lit interior halls and perimeter lights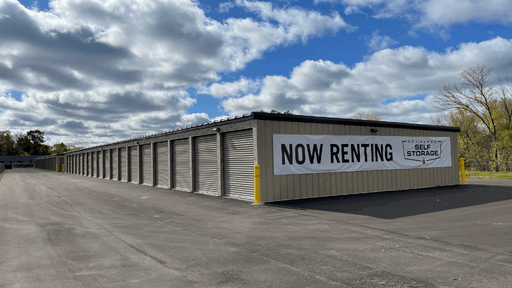 Climate Control Self Storage Units in Pewaukee, WI.
What is climate control, and why do you need it? Great question! Climate control self storage units offer additional protection for your most valuable belongings. Will you be storing antiques, furniture, photos, vinyl records, electronics, tools, or anything you might be devastated about if they are damaged in the changing seasons? Then climate control might be the perfect option for you!
Cheap Self Storage Units in Pewaukee, Wi
We understand the value of a dollar, working hard, and caring for our families and their needs. That's why we strive to have the best price for the value when renting a self storage unit. NOT all self storage units or facilities are made equal, we encourage you to look around at the local competitors, and we know that you will come back to Pewaukee Self Storage to store your valuable memories and possessions with us! We work hard to make sure that you always feel safe on the property, the facility is cleaned and maintained regularly, and we have self storage experts on staff to help assist you with your questions and needs.
Pewaukee Self Storage in Pewaukee, WI.
Communities that we serve:
Village of Pewaukee
Lakeview
Five Feilds
Hartland
Pewaukee
Sussex
Lisbon
North Field
Green Meadows
Oak Springs
Pebble Valley
Rolling Ridge
Meadow Brook Heights
Directions from:
Pewaukee River Parkway: Pewaukee Road, Pewaukee, WI
Waukesha North High School: Michigan Ave, Waukesha, WI
Sussex Village Park: Weaver Dr, Sussex, WI
Wagnor Park: Green Rd., Pewaukee, WI.
BILL PAYMENT OPTIONS:
OPTIONS FOR PAYING YOUR BILL
–Auto Pay: You can sign up for automatic payments at the beginning of each month and never worry about a late payment on your storage unit! Please contact your property manager or log into your online account to learn more about this feature.
–Online: You can pay online through our website. Please click the "Make A Payment" button at the top of the page to complete your payment. If you do not have an account created yet, you must contact the office during regular business hours to get your account ID number. Follow the steps on the screen to set up your account.
–Phone: You can also use our convenient pay-by-phone system or speak with a manager during regular business hours.
Features & Amenities
Every storage feature is designed from scratch against standards forged from years of experience in the self storage industry. The result is a high quality consistent customer experience you can count on.
What Our Customers Are Saying
Convenient, secure location.
Jake Stujenske
Brand new with professional management and a secure site!
Nick Wellenstein
Fantastic brand new facility. Easy move in process and great clean unit.
Dalton Keeney
Excellent location & brand new. Just recommended to a friend yesterday.
Scott Cayo
Great facility. Brand new and looks very secure.
Mark Gorski
Clean new facility with a convenient location. Awesome customer service with Cody!
Ken Todd
Have a Question?
Nope! Pewaukee Self Storage does not charge a security deposit, helping you to save money.
Our unit sizes can vary anywhere from 5'x5' to 10'x30'. Please call the office to learn more about available features and unit sizes.